If you are an avid gamer, the pirate sails of Corsair will be familiar to you. For the uninitiated, however, Corsair is one of the top names in the gaming industry. The company makes gaming gear- from computer parts to gaming chairs. However, what they are most known for is their gaming headsets.
Corsair headsets, more often than not, are durable and affordable and come with specs that most companies sell at much higher prices. This makes Corsair an excellent choice for most home gamers and those starting out in the gaming world who want to save money on a gaming setup. Let's look at the Corsair HS 70 and how it stacks up.
Quick Specifications
Form:                                                   Over-ear, wireless
Drivers:                                                Custom 50mm Neodymium dynamic drivers
Impedance:                                         32 Ohms @ 1kHz
Sensitivity:                                          111DBb (±3dB)
Frequency Response:                       20Hz – 20kHz
Connector:                                          USB Type A
Battery Life:                                        16 hours
Wireless Range:                                 40-foot range of wireless connection
Compatibility:                                     PS4, PC
Design and Comfort
The sleek, shiny design of the Corsair HS 70 wireless looks rich; and sturdy: The leather and stitching are durable, as is the body itself. You know you can have this headset for a while before buying a new one.
The microphone is detachable and moves in every possible making it easy to use. However, it is on the shorter end, which is a struggle for some face structures.
The headband is cushiony, and the quilted stitch gives it a very professional, put-together look that gaming headsets don't always have.
The earcups are made of memory foam, which allows them to give you that soft cushiony feel, but over time they take the shape of your ears and feel natural.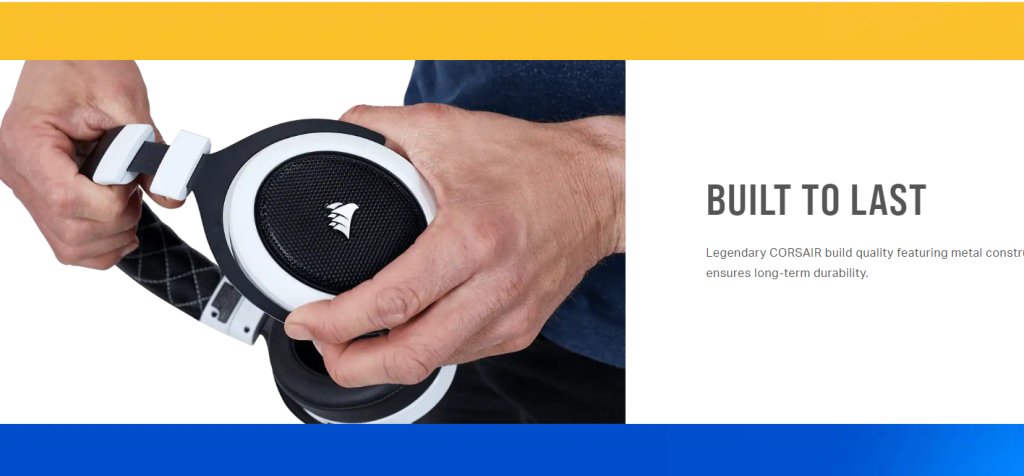 Functions and Controls
The functionality of the HS70 is another win. Everything is easy to reach, and the buttons and dials feel intuitive. You can set the volume dial with controls, which makes it easy to manipulate the volume even in the middle of an intense scene. This is at the bottom of the left ear, where you will find the volume dial, mute button, detachable mic slot, and the Micro USB connector to charge the headphones. The right ear has the power button, ensuring you don't mistakenly turn your headset off while playing. The headphones support 16 hours of battery life.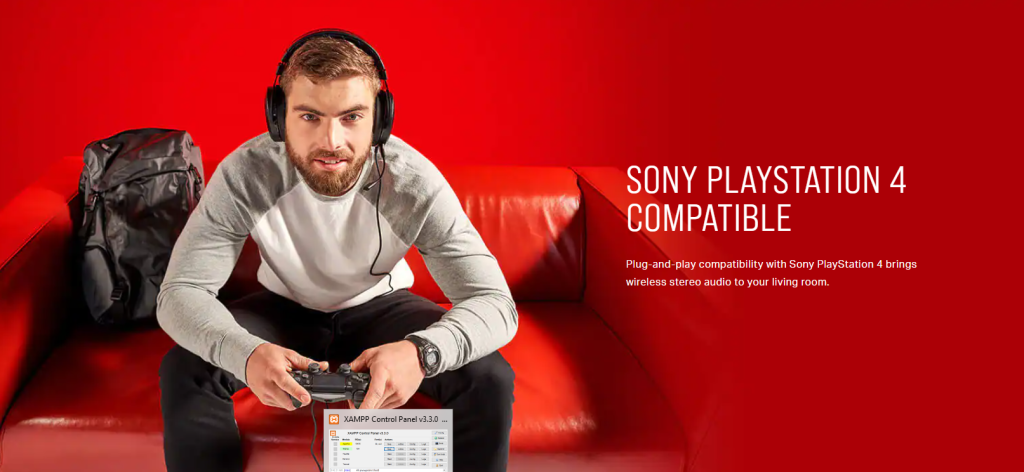 Sound Quality
The HS70 Pro Wireless has 50mm neodymium dynamic drivers and 7.1 surround sound. This is meant to give you a full sound that feels all around you. However, something to remember here is that surround sound is only available on PC and, unfortunately, not on PS4.
The surround sound works well when used on a PC and Laptop. It gives you a sense of your environment and lets users understand who was behind them or using what tools, allowing you a greater sense of vigilance.
Users have reviewed the sound fairly, with decent bass without compromising the clarity. The headphones are also said to differentiate between different sound sources, meaning that gaming footsteps and ambient noise did not drown background music or sounds.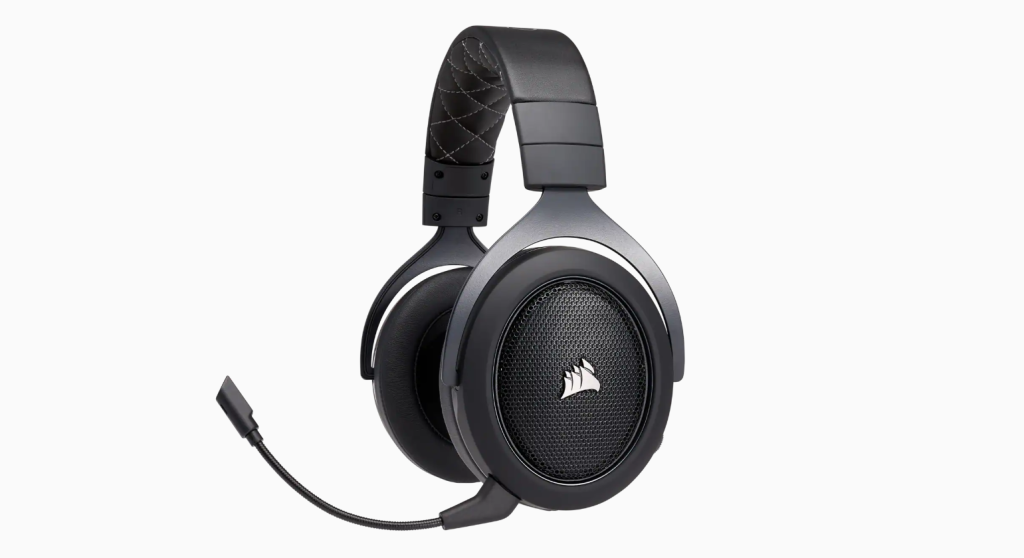 The headset does not support surround sound on pS4. This means that even though the clarity and entire body of the sound remain intact, it is almost impossible to tell the direction of the ambient sounds like footsteps and shots. This makes it more difficult to play games where the direction can warn you of many things.
The only problem with the Corsair headset is that users found it almost impossible to use it in chaotic environments. These do not cancel out outside noise well, and the headsets can't keep the noise out in crowded rooms and spaces.
Microphone
The detachable mic is built to be twisted to take on whatever shape is necessary. This makes it easy to pull it out of the way or set it to fit your face: It also has a foam windscreen to keep out extra ambient noise.
The microphone, however, is comparatively shorter than the ones on most headsets. This can be a problem as it does not reach the mouths of most players, making whatever they are saying sound distant.
Users also complained that the mic did not seem to keep out environmental noise as well as a noise-canceling microphone should. This means ambient sound can be heard on recordings and by people you talk to. Some also complained of a humming that accompanied any sound coming through the microphone. However, only some saw this, so check your set thoroughly.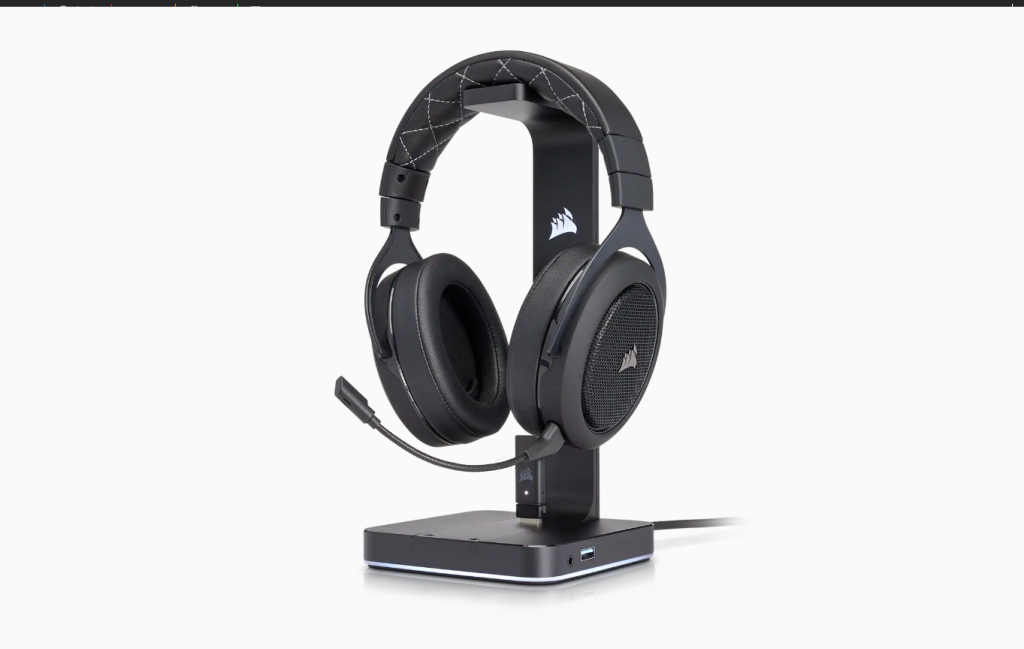 Pros and cons
The Corsair HS 70 Wireless is one of the best gaming headsets available. However, for all the great features, some downsides might make or break it for individual users. Let's take a look at them so that you can figure out if they are the right fit for you:
Pros
The headsets have a neutral sound profile that many users prefer.
EQ software allows you to edit the sound profile, but the preset is good enough.
The surround sound is accurate on PC.
You can bring down the latency if you use it with wire.
Build quality is almost unbeatable in this price range. The headset is challenging to destroy.
Very comfortable headsets
Cons
The ambient sound for the mic is loud- you can hear background sounds.
The earpieces do not cancel out environmental sounds enough to be useful as regular headphones in crowded areas.
Though this is a wireless headset, the latency is too high without the wire.
Surround sound is Not available on PS4.
It does not work with Xbox One.
Bluetooth performs poorly over distance, and latency issues start cropping up less than 10ft.
Though these are comfortable to wear headsets, the pressure of the bands and, thus, the earpieces can be a little suffocating for players who play for hours.
Final Thought on Corsair HS 70 wireless
Now it's time to answer the most critical question, are they worth buying? Before giving you my final verdict, I want to divide user bases. The first one will be who should buy these headphones. On the other hand, who should look for alternatives?
The sound you are getting here is simply brilliant. Because it comes at a budget-friendly price of $99, for this low price, there is nothing related to the sound we can complain about. Moreover, the 50mm dynamic bass drivers produce sufficient bass for most people. Everything is on point regarding other essential factors such as build quality and comfort. However, the leather material makes the ears warm after half an hour. You should go by them for excellent sound and a solid build without harming your pocket.
On the other hand, if you want headphones with RGB lighting and don't like the fact that it warms ears during continuous use, you can check other suitable options.