The gaming industry is one of the major online communities. Earlier, it used to be limited to some countries. But now, due to advancements in the gaming industry, it has grown worldwide. As a result, more and more people are coming into this industry.
Some people play for enjoyment and fun, whereas it's a full-time profession for some. It doesn't matter if one plays for fun or professional reasons. One thing is for sure; he needs a comfortable chair. Several brands make gaming chairs. Likewise, Killabee is a famous brand that makes good gaming chairs. For instance, Killabee 8204 is their most popular gaming chair, which we are reviewing today. That said, let's review the Killabee 8204 gaming chair.
Killabee 8204 Gaming Chair Overview
Killabee 8204 is one of the most popular gaming chairs that Killabee has to offer. There are several reasons behind this. From comfortability to good design, it has all features of a good gaming chair. It comes with a PU leather seat and backrest. Talking about the chair's dimensions, its height from floor to top of the seat is 19″ to 22.
Build Quality
One of the essential parts of a gaming chair is its build quality. How long you can use it depends entirely on its build quality. Talking about Killabee 8204 Gaming Chair's build quality, it is excellent. The company has done fantastic work with its build quality. For instance, it uses a metal frame, Which makes it durable and robust. Another thing worth noticing here is its weight capacity.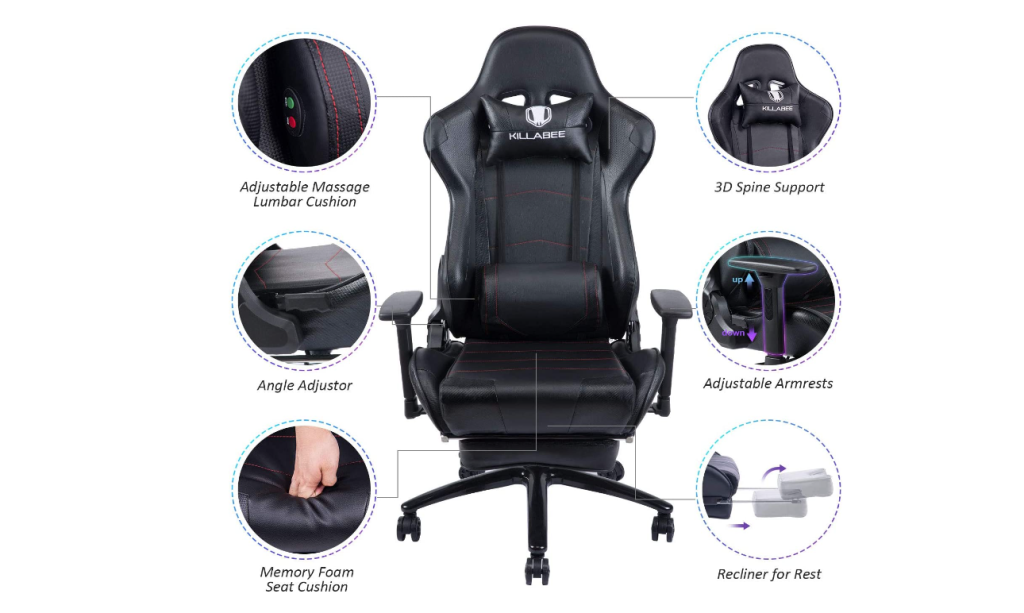 It has a maximum weight and height capacity of 251 lbs and is 6″ 1, which is suitable for most users. In addition, it has an explosion-proof gas spring, making it versatile for many users.
Comfort
Another important aspect of gaming chairs is, how's comfort. Most gamers spend a lot of time playing games. On the other hand, if you are a streamer if the playing time is even more. As a result, if the chair is uncomfortable, it will cause many health issues, for example, spine and neck-related problems. Talking about the Killabee 8202 gaming chair, it is excellent in terms of comfort.
It uses memory foam technology, which is excellent in providing comfort. It comes with a neck pillow that ensures you feel any neck strains while enjoying your favorite game. Another thing worth noticing here is that it has a footrest. The footrest is adjustable so that you can take a nap in between your long gaming sessions.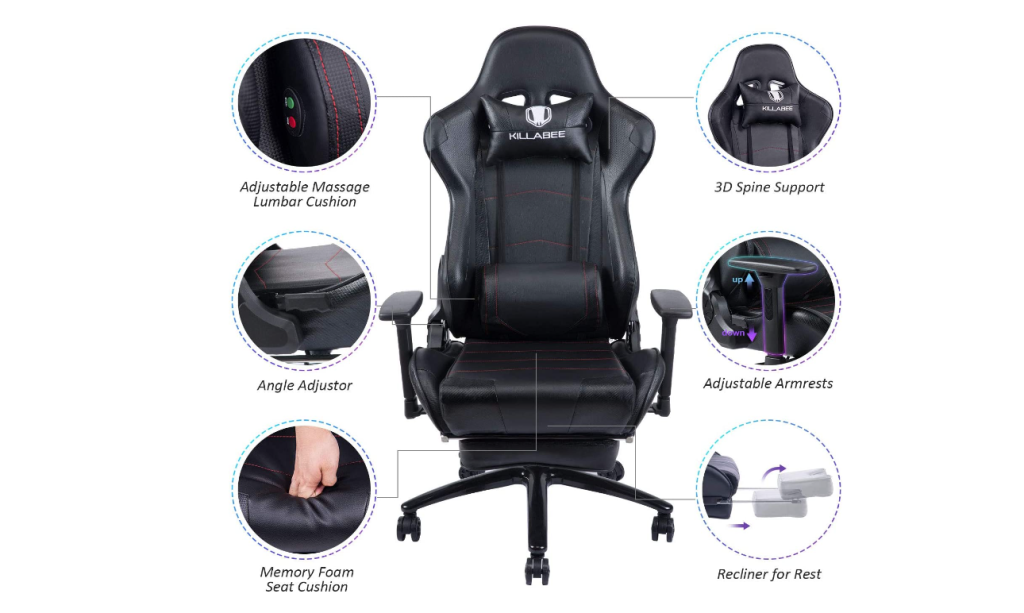 Overall, the comfort is excellent. It doesn't matter if you play sometimes or if you are a gaming streamer. It will take care of comfort very well. However, the memory foam shrinks after some time. Even though it's a change, it is not significant, but it happens.
Assembly and Price
It is the most neglected part when purchasing a gaming chair. A good gaming chair should be easy to assemble. For instance, if a chair takes experts to assemble, it will cost you extra money and time. Luckily, that's not the case here. The Killabee gaming 8202 is straightforward to make. Even if you haven't done it before, you can do it without issues.
On the other hand, if we talk about the price, it comes with a budget-friendly price of 160$. However, the price is variable. Still, the build quality and comfort it provides are excellent.
Final Thoughts on Killabee Gaming Chair
Overall, the Killabee 8202 is a solid gaming chair. Whether you are looking for comfort or you want stylish design. It will serve you in both cases. What's even more interesting is that you are getting all of this at a budget-friendly price from a well-reputed brand.
In conclusion, if you are looking for a solid gaming chair at a budget-friendly price, you should check this out.