Before reviewing the Logitech g433 gaming headset, let's consider what makes a good one. There are a bunch of essential features that make for a good headset. These are important across most games. These even add to the mobile gaming experience. If you like to play on your PC, PlayStation, or any other gaming rig, you cannot do without. Let's take a look:
Noise Cancellation Mic:
If you play any games that require a mic, always find a headset with a mic with noise cancellation. Mics that pick up all sounds around you are terrible for multiplayer games. They pick up the loud clicks from controllers and keyboards and can be very distracting. Your fellow players will hear every sound from your end and can put them off their game, making you a terrible teammate. Especially when you all are at a crucial point that requires focus, added sounds can disrupt any gameplan you may be barking into the mic. Mechanical keyboards are notorious for this and require noise cancellation to not drown your voice in the sound of constant aggressive clicks.
Clear sound
This one is a no-brainer. Having a headset where only half the sound is coming through, or the sound is not crystal clear, makes for very poor gameplay. For action games especially, soft sounds like footsteps of in-game environmental sounds can alert you to others around you and help you play better. Many games also put in a lot of work on the audio end of things and are part of the game. Sound plays an integral role in gaming, from sounds that alert you to new acquisitions to enemy players. Without a headset with crystal clear sound, you might find yourself losing many valuable moves.
Good sound is essential for mics too. A lousy microphone can create confusion in games requiring a mic. Words might be misheard, plans may be foiled, and it might annoy others enough to get you booted off. So, always look for headsets that have crystal clear sound.
Comfort
Another no-brainer comfort is what sets apart good quality headsets from terrible ones. Even if you find good sound and noise cancellation, you cannot stick to your game as long as you want if it's uncomfortable. Uncomfortable headphones can also be physically painful to wear after a while and contribute to health issues. Bad headsets can hurt your earlobes even after taking them off. They can cause minor injuries and, in general, make the whole experience extremely frustrating at the very least. Moreover, the headphones may also fall and break if you move around a lot while playing.
Logitech g433 gaming headset Review
Now, let's see how the Logitech g433 stacks up.
Design
The design of the Logitech g433 headset is the first thing you'll notice is the design. It is a sleek, contemporary, minimalist design and looks relatively compact for a gaming headset. The earcup is covered in mesh, and suede-covered earpads are provided in the box if the mesh doesn't suit you.
One great thing about the headset is that the mic is detachable. Plus, it attaches easily through one of two 3.5mm jacks on the left earcup. The design makes it easy to do so, and you will not have to constantly find the groove like many other headsets. This also allows the headset to be used as headphones when desired. This way, you don't need to lug around different headphones.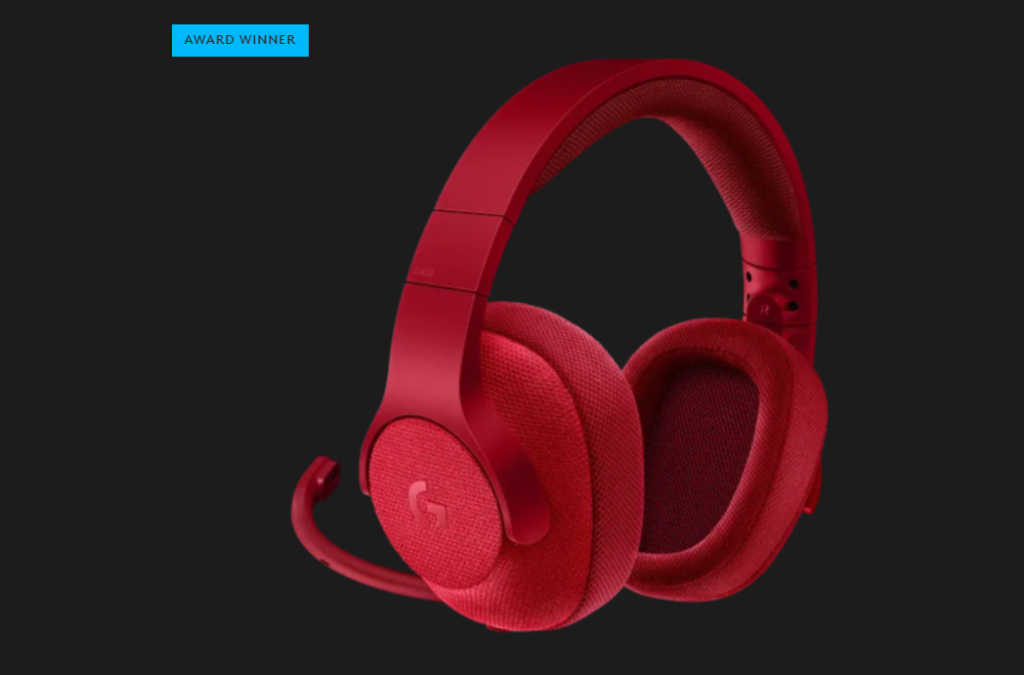 There are also a bunch of other accessories that come with the headset that usually aren't available with headphones or headsets. Though it doesn't sound like much, these accessories make it easier to use the product and save you money over time.
The headset clamps on pretty tight, though it was uncomfortable for some users, and they complained of the earpieces hurting their ears. If you like tight headphones, this might be the one for you.
Sound
One of the best features of the headset in the sound department is its 7.1 surround sound.
This is incredibly important when it comes to sound. Its design is excellent for what the company calls "in-game spatial awareness." It allows you to hear enemies or environmental cues around you. You can customize the directional channel and program sound profiles while playing different games. Games like Witcher 3 " fare well with the Logitech headset. According to many users, unique games with special sounds for special abilities also come across crisply. When you play games requiring such spatial awareness, the Logitech g433 is your best bet at the available price.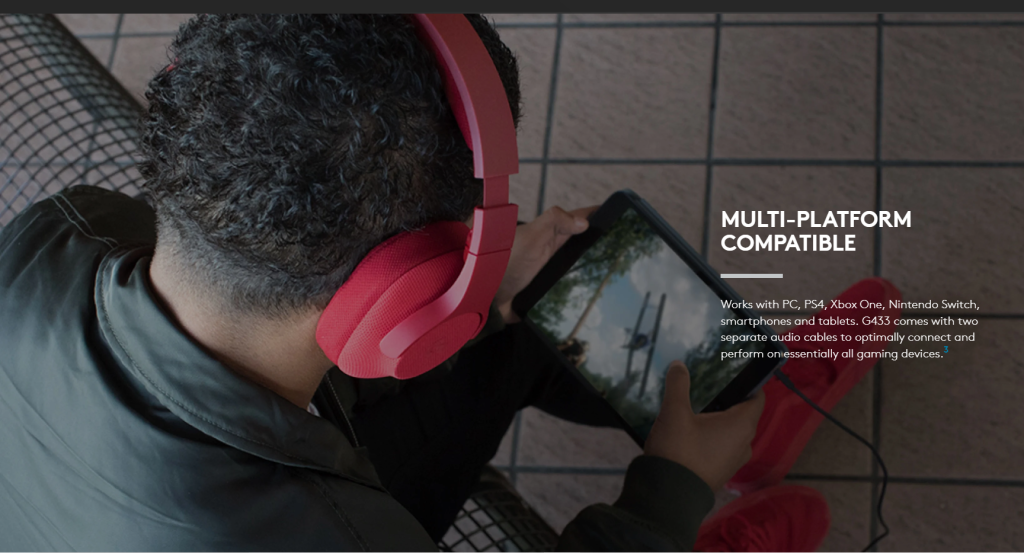 Mind you. Users do have an issue with how the headphones don't fare well with the music. For some, an essential part of gaming is the music that comes with it. For those players, the headset isn't great. They say it lacks bass, and the sound lies flat in music or even in-game action like gunshots. The sound doesn't seem complete, and others have noticed distortions when the volume is cranked up high.
Mic
Most agree that the microphone is one of the best in the business for the price. It has excellent recording quality and a crisp sound. There's no background sound, thus filtering out keyboard clicks or other environmental noise. It also has a high-quality pop filter, a noise-canceling filter, that does its job.
The detachable boom mic has an LFE or low-frequency extension of 20Hz, which is excellent. This means voice transmissions with this mic are full-bodied. Despite this, some users do notice some rumbling voices coming through. In general, however, most users point out the naturalness of the recording mic.